We offer front-load bins for your residential or commercial waste.
Whether you're renovating your house, landscaping your yard, doing some major spring cleaning, replacing a client's roof, or handling some other kind of residential or commercial project, the reality is that you're going to have a lot of debris to deal with during the process. The volume of waste will almost certainly exceed the amount you usually have, so it's important to prepare by getting the right bins for your needs. Luckily, our team at Collingwood Disposal provides excellent front-load bins to help you throughout the course of your project.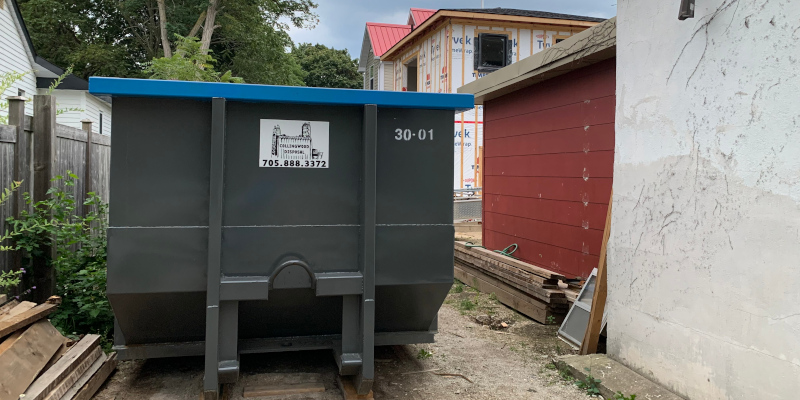 Front-load bins are a great option when you're going to be dealing with a lot of debris. Not only do they hold everything from demolition material to yard waste, but their design also allows you to throw objects inside it with minimal effort. They're also very sturdy, meaning they can support the weight of a large amount of debris.
If you need front-load bins, you can rest assured that our team is committed to your satisfaction. We'll take the time to gain an understanding of your situation so that we can help you determine what size bin will suffice for your needs before we deliver it to your property. In addition, we won't leave you waiting for the bins you need because we prioritize on-time delivery.
We're proud to serve local businesses and homeowners in Collingwood, Ontario. If you have questions for us or would like a free quote, contact us today. We look forward to assisting you soon.
---
At Collingwood Disposal, we offer front-load bins for customers in Collingwood, Wasaga Beach, Meaford, Maxwell, Badieros, the Town of Blue Mountains, including Craigleith, Clarksburg, Lora Bay, Ravenna, Red Wing, and Thornbury, and Clearview Township, including Aveneing, Creemore, Duntroon, Glen Huron, New Lowell, Nottawa, Stayner, and Sunnidale Corners, Ontario.