We provide transportation and disposal services as part of our garbage bin rentals.
The need for a garbage bin may present in a number of situations. You may be working on a renovation at your property that will produce more waste than can fit in your standard garbage can. Or you might be responsible for a construction site that produces quite a bit of waste that must be disposed of properly. No matter the reason, our team at Collingwood Disposal can get you the bins you need in a timely, efficient manner. We provide garbage bin rentals to clients in and around Collingwood, Ontario. You can choose from a range of sizes and shapes, depending on the scope of your project.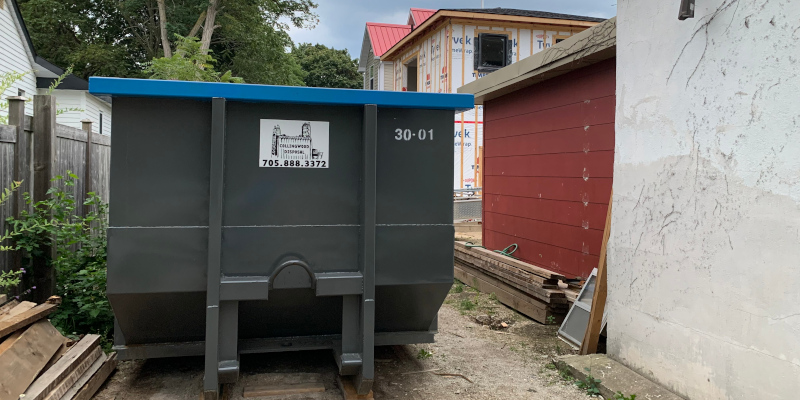 Renovations are common driving forces behind the need for garbage bin rentals. You may not realize just how much waste comes from a renovation project, but you'll have all the old materials that come from the demolition phase, along with the boxes and wrapping of the new materials that must be disposed of as well. Your home garbage can typically can't keep up with the amount of waste produced on a renovation job, especially when you still have your normal trash to dispose of in the can. By renting a garbage bin for the duration of your project, you always have a place to put the waste.
We also provide transportation and disposal services as part of our garbage bin rentals. When you call for a quote, we'll ask about what will be disposed in the bin, as that will impact the tipping fee when we pick up the bin. While we require a deposit for your bin rental, we'll invoice you for the total amount once we've completed the pick-up and disposed of the material properly. You can count on our team members to deliver the garbage bin you've requested to the proper location, whether that's at your home or a job site. We'll also empty the bin when we come to pick it up, which means you don't have to worry about these steps in the disposal process. To learn more about our services or competitive pricing, contact us today.
FAQs About Garbage Bin Rentals
We understand how important it is for you to work with a waste removal company you can trust when you're doing renovations or a similar project. We want to assure you that you can rely on us for garbage bin rentals, so we have answered a few frequently asked questions that we hope will help you decide to choose our garbage bin rentals. Don't hesitate to reach out to us if you have additional questions.
What size bins do you offer?
We want our customers to have a range of options. After all, no two projects are exactly alike. Our garbage bin sizes are as follows:
14 cubic yards
20 cubic yards
30 cubic yards
If you are not sure which bin size is most appropriate for your needs, our team would be more than happy to help you make the right choice after you answer a few questions about your project.
What factors affect the cost of garbage bin rentals?
Multiple factors affect pricing when it comes to garbage bin rentals. For instance, the bin size, the type of waste, whether the waste is separated in the bin, and the duration of time you will need to use the bin may be considerations. However, we can provide more specific pricing information when you request a free quote before you put down a deposit.
What sets your garbage bin rentals apart?
Our bins are high quality, well maintained, and ergonomically designed, so we have no doubts that you will appreciate them as you dispose of your project's debris.
---
At Collingwood Disposal, we offer garbage bin rentals for customers in Collingwood, Wasaga Beach, Meaford, Maxwell, Badieros, the Town of Blue Mountains, including Craigleith, Clarksburg, Lora Bay, Ravenna, Red Wing, and Thornbury, and Clearview Township, including Aveneing, Creemore, Duntroon, Glen Huron, New Lowell, Nottawa, Stayner, Shanty Bay, Elmvale, Midland, and Sunnidale Corners, Ontario.
Similar Services We Offer: