Mini bin rentals are perfect for your reno or decluttering plans.
Have you ever tried to complete a home reno or declutter while relying on curbside pick-up? We all know how that goes – it doesn't work! Garbage bags end up breaking or being too heavy to meet regulations, and you're stuck purchasing tags to handle overages. The next thing you know, you're running back and forth to the dump or hiring a chuck with a truck to come and take it away. This all adds up to extra stress and wasted time (not to mention mess!!) for you.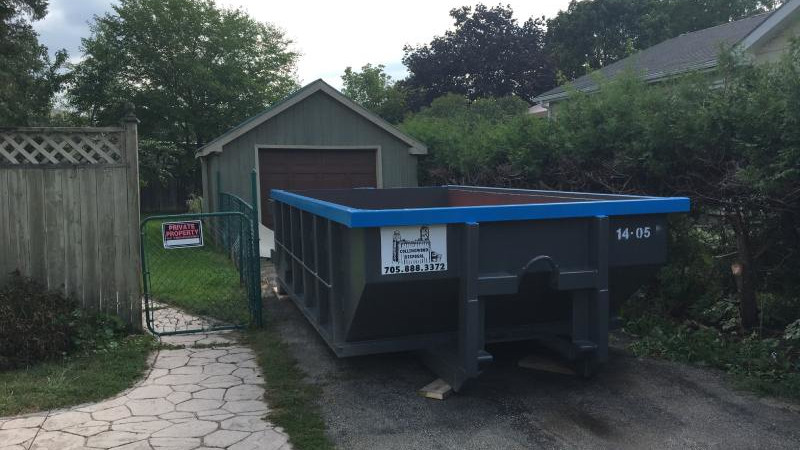 We think you'll be pleasantly surprised with how much hassle and time you save by renting a mini bin from us. Collingwood Disposal has great options for any project that involves waste disposal.
Mini bin rentals are wonderful for those DIY projects, not just because of their capacity, but also because of their ability to fit in your driveway or the location of your choosing.
Our mini bin rentals are designed for ease of use. We pride ourselves in maintaining our bins so that they look nice sitting on your property. If you have a specific place you'd like us to drop your bin, just let us know and we'll make it happen.
Not all bins are designed the same! We have ergonomic bins that make it easy to wheel debris into the bin from the side, and low bin walls that make it easy to hoist items over the sides. This helps you get through your job faster, and helps to reduce strain for you.
Collingwood Disposal is a local owned and operated company that takes pride in helping people with all types of waste disposal needs. Our third-generation experience in the industry benefits you in so many ways! A quick call with a few details about your project, and we can arrange the appropriate bin (and placement!)
If you are looking at mini bin rentals, we invite you to call us here at Collingwood Disposal for the best in service, reliability, honesty and quality.
---
At Collingwood Disposal, we offer mini bin rentals for customers in Collingwood, Wasaga Beach, Meaford, Maxwell, Badieros, the Town of Blue Mountains, including Craigleith, Clarksburg, Lora Bay, Ravenna, Red Wing, and Thornbury, and Clearview Township, including Aveneing, Creemore, Duntroon, Glen Huron, New Lowell, Nottawa, Stayner, and Sunnidale Corners, Ontario.