We'll bring the construction waste bins you need to your job site.
Construction sites need reliable and functional waste management throughout the project, regardless of if the task at hand is a new build, a renovation or a roofing or framing project. If there is a demolition phase, workers need a place to put all the materials that are being tossed. Throughout the construction process, it's critical to have a construction waste bin in order to dispose of all the packaging housing the new construction materials. In order to keep your job site safe, clean and orderly, having a great local partner that can deliver and swap bins on your schedule is a must. Collingwood Disposal specializes in construction waste bins across our service area throughout Collingwood, Ontario and surrounding areas.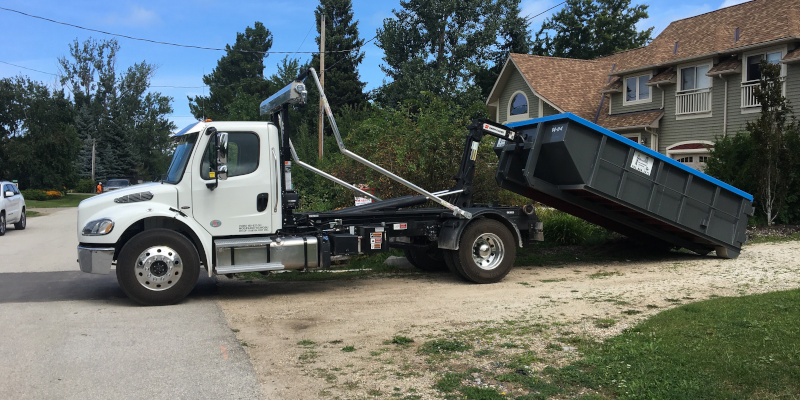 We don't need to tell you that by renting the construction waste bins needed on the project, you can save money and space. On many jobs, waste bins are only needed for certain phases of the job, so purchasing the needed bins is expensive and often not necessary. After all, when you finish the phase or complete the job, you don't need those bins anymore. Your company has to find a place to store them, and these bulky containers can take up a lot of valuable space. Renting the bins from us allows you to get what you need, when you need it, and avoid the hassle of storage or cost of purchasing the bins.
Our team members provide transportation and disposal services as well. We'll bring the construction waste bins you need to your job site. You can also choose from three different sizes to accommodate the needs of your job. For more information about what we deliver to construction companies and project managers, contact us today.
FAQs About Construction Waste Bins
Construction waste bins are important for many different projects. Even renovation or construction projects that appear small might produce quite a bit of waste, so you may need a bin regardless of your project's scope. Our construction waste bins are an excellent option. We understand that you may want more information before choosing to rent, so we have answered some frequently asked questions below. Contact us to learn more.
What are the available sizes of your construction waste bins?
We offer several sizes of waste bins to accommodate a variety of needs. For example, our options include bins that are 14, 20, or 30 cubic yards. If you are not sure which size is most appropriate for your needs, we can help you determine which is ideal once you provide some more details about your project.
Why are your bins a good choice?
Our bins are high quality, durable, and ergonomically designed with a lower side, which makes it easier to throw debris inside. Even the smallest sizes can hold a lot of waste, and we make sure to keep all our construction waste bins in excellent condition, so they will perform well.
How soon can you deliver a bin to my property?
We will do everything we can to provide your construction waste bin(s) when you need them, so you will not have to delay your project. However, we encourage our clients to call well in advance to ensure we have enough bins available on the scheduled day.
---
At Collingwood Disposal, we offer construction waste bins for customers in Collingwood, Wasaga Beach, Meaford, Maxwell, Badieros, the Town of Blue Mountains, including Craigleith, Clarksburg, Lora Bay, Ravenna, Red Wing, and Thornbury, and Clearview Township, including Aveneing, Creemore, Duntroon, Glen Huron, New Lowell, Nottawa, Stayner, and Sunnidale Corners, Ontario.