We'll bring the construction waste bins you need to your job site.
Construction sites need reliable and functional waste management throughout the project, regardless of if the task at hand is a new build, a renovation or a roofing or framing project. If there is a demolition phase, workers need a place to put all the materials that are being tossed. Throughout the construction process, it's critical to have a construction waste bin in order to dispose of all the packaging housing the new construction materials. In order to keep your job site safe, clean and orderly, having a great local partner that can deliver and swap bins on your schedule is a must. Collingwood Disposal specializes in construction waste bins across our service area throughout Collingwood, Ontario and surrounding areas.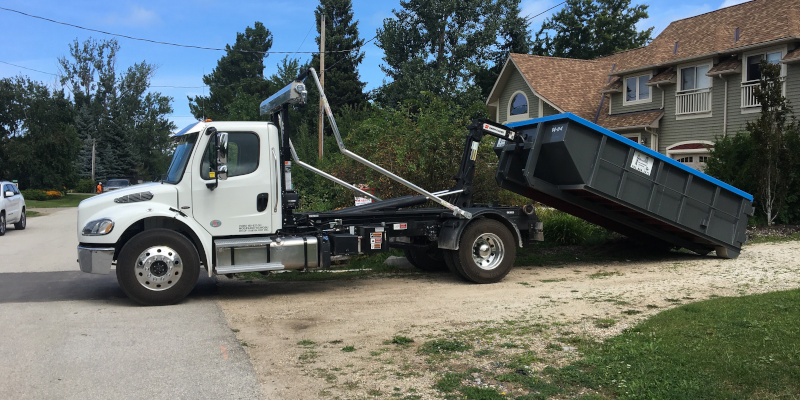 We don't need to tell you that by renting the construction waste bins needed on the project, you can save money and space. On many jobs, waste bins are only needed for certain phases of the job, so purchasing the needed bins is expensive and often not necessary. After all, when you finish the phase or complete the job, you don't need those bins anymore. Your company has to find a place to store them, and these bulky containers can take up a lot of valuable space. Renting the bins from us allows you to get what you need, when you need it, and avoid the hassle of storage or cost of purchasing the bins.
Our team members provide transportation and disposal services as well. We'll bring the construction waste bins you need to your job site. You can also choose from three different sizes to accommodate the needs of your job. For more information about what we deliver to construction companies and project managers, contact us today.
---
At Collingwood Disposal, we offer construction waste bins for customers in Collingwood, Wasaga Beach, Meaford, Maxwell, Badieros, the Town of Blue Mountains, including Craigleith, Clarksburg, Lora Bay, Ravenna, Red Wing, and Thornbury, and Clearview Township, including Aveneing, Creemore, Duntroon, Glen Huron, New Lowell, Nottawa, Stayner, and Sunnidale Corners, Ontario.