Our construction waste bins can be used for demolition materials and excess building materials.
An untidy construction site can be a recipe for disaster. Even if nobody is injured by stepping on a nail or tripping over debris, it can take far longer to finish a project if waste is constantly in the way. We have the solution for both DIY projects and contractors in The Blue Mountains, Ontario area at Collingwood Disposal. Our rental construction waste bins help you keep waste in one secure place. Since we bring the waste bins to your job site and then pick them up when they are filled, those annoying trips to the landfill are avoided. You can stay on task and get the project done on schedule rather than wasting time hauling waste construction materials.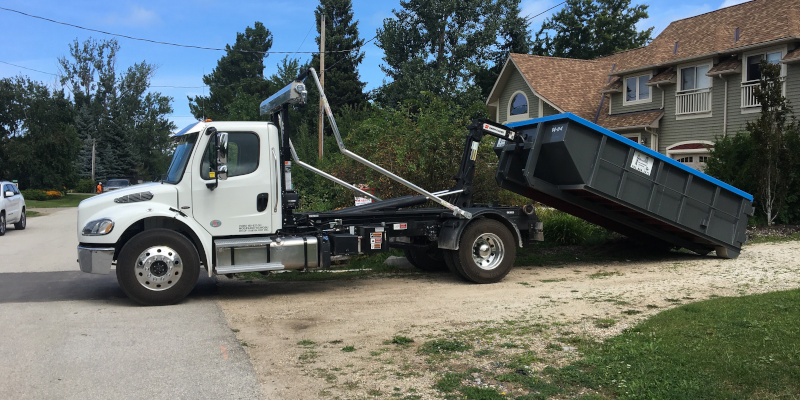 Our construction waste bins can be used for demolition materials and excess building materials. Since we have many styles and sizes available, we can accommodate small projects, large projects, and everything in between. Our helpful staff is more than happy to help you with the selection of construction waste bins for your project. Our roll-off containers with open tops are a popular choice, as are our front-loading bins and ones that feature a lower lip for easier and safer loading.
We work with a wide variety of construction companies, including general contractors, plumbers, electricians, roofers, siding installers, deck installers, and more. Our construction waste bins are also an ideal solution for DIYers because you can't usually put construction materials at the curb and not all homeowners have access to a truck to take them to the landfill. Our smaller construction waste bins are typically suitable for residential projects as they'll fit in the driveway.
If you have questions about construction waste bins for your residential or commercial construction project, don't hesitate to reach out to us.
---
At Collingwood Disposal, we offer construction waste bins for customers in Collingwood, Wasaga Beach, Meaford, Maxwell, Badieros, the Town of Blue Mountains, including Craigleith, Clarksburg, Lora Bay, Ravenna, Red Wing, and Thornbury, and Clearview Township, including Aveneing, Creemore, Duntroon, Glen Huron, New Lowell, Nottawa, Stayner, and Sunnidale Corners, Ontario.