When the garbage you have to remove is more than your trash cans can handle, we have the garbage removal solution for you.
While curb collection of household waste is an option for many in the Collingwood, Ontario area, it isn't always the best option if you need specialty garbage removal. Collingwood Disposal has the solution for unique circumstances. We are able to handle situations such as excessive garage removal for an estate, cleaning out an abandoned storage unit or rental unit, major decluttering of an attic, basement or garage, and cleaning out after a disaster or renovation.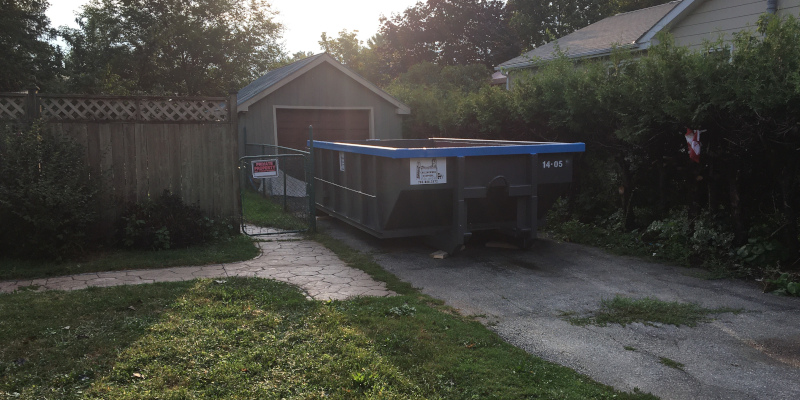 Our garbage removal solution involves dropping off a bin for you to load at your leisure. We offer 14, 20, and 30-cubic-yard bins and can help you determine which size would be best for your situation. We will place the bin in the location that works well for you and then pick it up when you have finished loading it. We then take care of disposing of the garbage so you don't have to worry about it.
If you have a situation where the garbage you need to dispose of far exceeds your garbage cans and you don't want the unsightly mess left at the curb (or can't because of neighbourhood regulations), it is time to reach out to our team to schedule a garbage removal bin. As a third-generation waste collection company, we are experienced in waste solutions for a variety of situations. We are happy to help you with the reliability and on-time delivery and pickup that you need to get your home or property tidied up. Call today to learn about our ergonomically-designed bins that are the best on the market and to reserve one for your upcoming project.
FAQs About Our Garbage Removal Services
If you need to dispose of extra junk, renting a container from us at Collingwood Disposal is the way to go. Below, we have answered some common questions we receive about our garbage removal services and renting a container from us.
When should I rent a container?
We recommend renting a container if you are trying to get rid of extra materials or trash that won't fit inside your normal garbage bin. For example, we recommend renting a container prior to a home renovation or major cleanout project.
What size containers do you offer?
We offer 14, 20, and 30-cubic-yard bins. We can help you figure out which size bin is right for your project when you contact us.
What does your drop-off and pick-up process look like?
You contact us and let us know you need a container. We recommend a size and then give you a quote. We schedule a day with you to drop off the container. You fill the container with waste from your project, and then we come and pick up the container and dispose of the waste inside of it.
How much does it cost to rent a container?
How much it costs to rent one of our bins depends on the size of the bin you rent, how long you need the bin for, where you have the bin dropped off, and other factors.
How do I get a quote?
If you're ready to rent one of our containers, contact us directly to get a customized quote.
---
At Collingwood Disposal, we offer garbage removal services for customers in Collingwood, Wasaga Beach, Meaford, Maxwell, Badieros, the Town of Blue Mountains, including Craigleith, Clarksburg, Lora Bay, Ravenna, Red Wing, and Thornbury, and Clearview Township, including Aveneing, Creemore, Duntroon, Glen Huron, New Lowell, Nottawa, Stayner, Shanty Bay, Elmvale, Midland, and Sunnidale Corners, Ontario.
Similar Services We Offer: