Our roll off dumpsters are available for commercial and residential projects alike.
When you are at the planning stages of a new renovation, construction, or decluttering project, you're likely more excited about the end result than the planning stages. Whether you have a commercial or residential project on hand, having proper plans upfront is key so that everything goes smoothly. If you've got demolition and/or construction on your list, you'll need the right roll off dumpsters ready and waiting.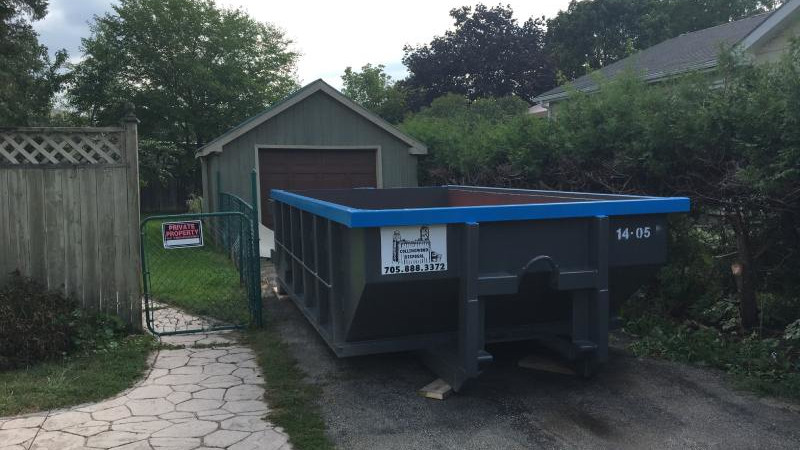 Collingwood Disposal is ready to simplify one item on your list! We are ready to help you decide which roll off dumpster is best for your specific needs. All it takes is a quick call with some details about what's going in the bin, and we'll be able to make a recommendation and schedule delivery. If you have a big project that requires more than one bin or pick-up – no problem! We'll work with you to accommodate your schedule.
Our transparent pricing and ergonomic bins are also appreciated by our customers and set us apart from those 'other' bin companies. Because we have been working in the waste disposal business for three generations now, you can count on our experience and feel good about supporting local. We are a local, family-owned business and know the area well, and are dedicated to serving local businesses and residents of our area.
When you are looking at roll off dumpsters for your next project, Collingwood Disposal is uniquely suited to help you. We hope that you'll consider working with us, so give us a call about your project. We look forward to hearing from you!
FAQs About Roll Off Dumpsters
Whether you're cleaning out your house, planning a move, or starting a major renovation project, renting a roll off dumpster can be the easiest way to conveniently get rid of any debris and waste you produce. However, if you've never rented a dumpster before and aren't sure what to expect from this service, our team at Collingwood Disposal is here to help! Here are our answers to the most common questions we get asked by our clients.
What size dumpster do I need?
The exact size can vary greatly depending on the size and scope of your personal project. However, our waste disposal experts are here to recommend the best options for you! Simply give us a call and share a few details about your needs so we can provide you with the right size.
What can I put in a dumpster?
Generally speaking, any debris from home demolition or renovation jobs is safe to put in a dumpster. However, no flammable, toxic, or other potentially dangerous materials are permitted. Contact our team for more information or details about what you can and cannot put in a dumpster.
Why should I use your waste disposal services?
Our team has been in this industry for over 30 years, and we're highly committed to making our clients' lives easier with our services. We provide ergonomic containers to make it easier to dispose of waste, and our experienced crew will take care of dropping off your dumpster, disposing of its contents, and hauling it away once your project is complete.
---
At Collingwood Disposal, we offer roll-off dumpsters for customers in Collingwood, Wasaga Beach, Meaford, Maxwell, Badieros, the Town of Blue Mountains, including Craigleith, Clarksburg, Lora Bay, Ravenna, Red Wing, and Thornbury, and Clearview Township, including Aveneing, Creemore, Duntroon, Glen Huron, New Lowell, Nottawa, Stayner, and Sunnidale Corners, Ontario.
Similar Services We Offer: