Our roll-off dumpsters are the perfect solution for construction waste management.
Whether you are planning to add onto your home, replace your roof, redo your landscaping, or undertake any other home improvement project, one thing you will need to account for is the amount of waste and debris that your project will generate. These types of projects create a much greater volume of waste material than simply going about your routine does, so your residential garbage can isn't going to cut it. Instead, you will need a dedicated construction waste container, and our team at Collingwood Disposal can provide the perfect one with our roll-off dumpster rentals.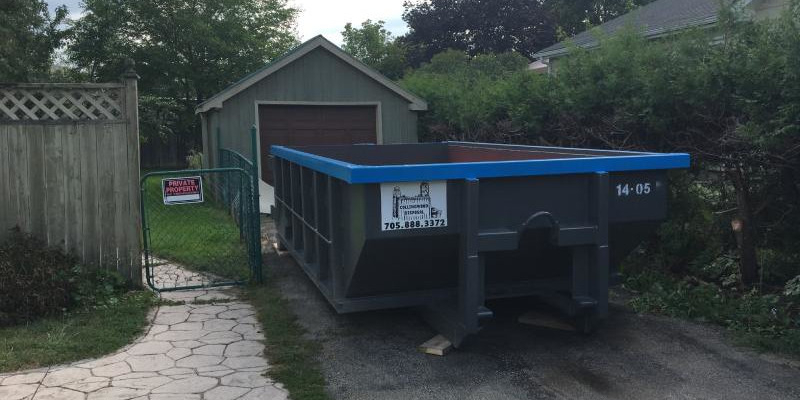 When it comes to waste management, the members of our team have the right experience to get the job done right. Our company has passed down through the past three generations, and our goal is to continue to provide impeccable services and to meet all of your waste management needs. We can help you figure out what size container you need for your project, and then we will handle both delivery and pickup. Our team will deliver the roll-off dumpsters you need right to your project site, and then, when your project is complete, we will haul them away again and dispose of their contents in the appropriate facilities.
Our team is proud to serve the Creemore, Ontario community, and we want to help you make your project go as smoothly as possible. If you are interested in our roll-off dumpsters, we encourage you to give us a call to start making the arrangements today.
FAQs About Roll-Off Dumpsters
We are proud to provide roll-off dumpsters when our customers need waste removal services. If you are thinking about renting one of our dumpsters but you haven't decided to move forward yet, we are here to answer your questions. We have also answered some frequently asked questions below for your convenience. Please reach out to learn more about our roll-off dumpsters.
How large are your roll-off dumpsters?
We have several size options when you need a roll-off dumpsters. For smaller projects, we have dumpsters that are 14 cubic yards. For mid-sized to large projects, we offer dumpsters that are 20 cubic yards and 30 cubic yards. Just tell us about your project and how much waste you anticipate it will generate. We'll recommend the proper size for your needs.
What are the advantages of roll-off dumpsters?
Roll-off dumpsters have a few advantages over other types of waste bins. To start, they have an open top that makes it easy to load heavy or bulky items like old furniture, appliances, or construction debris. They also have higher sides than other types of bins, which ensures that the waste stays inside the container instead of spilling out when we haul it away.
Why should I turn to you for a roll-off dumpster?
Our roll-off dumpsters are ergonomically designed, durable, and well maintained. But beyond that, renting a roll-off dumpster from us means you get unbeatable service. We'll arrive on time for pick-up and delivery, and we will listen to your needs. We're also very organized and reliable.
---
At Collingwood Disposal, we offer roll-off dumpsters for customers in Collingwood, Wasaga Beach, Meaford, Maxwell, Badieros, the Town of Blue Mountains, including Craigleith, Clarksburg, Lora Bay, Ravenna, Red Wing, and Thornbury, and Clearview Township, including Aveneing, Creemore, Duntroon, Glen Huron, New Lowell, Nottawa, Stayner, and Sunnidale Corners, Ontario.
Similar Services We Offer: