Turn to us when you need a roll-off dumpster.
Dumpsters are extremely useful to have around when you're producing large quantities of waste, as you might during a renovation or construction project or a large landscaping job. While everyone knows that dumpsters are designed to handle waste, many people don't know that different kinds of waste may require a particular kind of dumpster.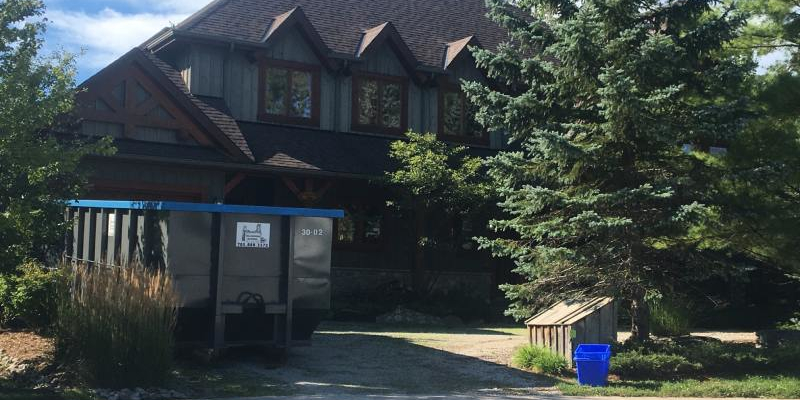 Roll-off dumpsters are commonly used for handling the waste produced from construction or renovation projects, and they can come in a variety of sizes to suit different job sites and amounts of waste. When you need a roll-off dumpster delivery for your property in Creemore, Ontario, turn to us at Collingwood Disposal.
Scheduling a roll-off dumpster delivery can be nerve-wracking, especially if it is not something you are familiar with. We make it easy and will take the time to answer all of your questions and alleviate your concerns. After you reach out to us, we will inquire about the details of your project to ensure we get you a roll-off dumpster that's the right size to accommodate your project's anticipated waste. We'll deliver the dumpster to your property, taking care to place it in the ideal location for your project. Once your work is complete, we'll come to pick the dumpster up, so you don't have to worry about figuring out where to dispose of everything.
If you've been searching for a prompt, reliable company to handle your next roll-off dumpster delivery, look no further. We are ready to answer any questions you may have, and we even offer free quotes. Contact us for more information.
---
At Collingwood Disposal, we offer roll-off dumpster delivery for customers in Collingwood, Wasaga Beach, Meaford, Maxwell, Badieros, the Town of Blue Mountains, including Craigleith, Clarksburg, Lora Bay, Ravenna, Red Wing, and Thornbury, and Clearview Township, including Aveneing, Creemore, Duntroon, Glen Huron, New Lowell, Nottawa, Stayner, and Sunnidale Corners, Ontario.