Enjoy a convenient waste disposal solution with our roll-off bins.
When you have a project or build coming up, one of the last things on your mind might be where the garbage is going to go! However, once the smaller cans start to fill up, you will quickly be looking through the Collingwood, Ontario area in search of a great dumpster or bin rental facility that can supply you with roll-off bins. Working with our team here at Collingwood Disposal, you will find that we can supply you with the best in roll-off bins and will do everything we can to make your next project go smoothly.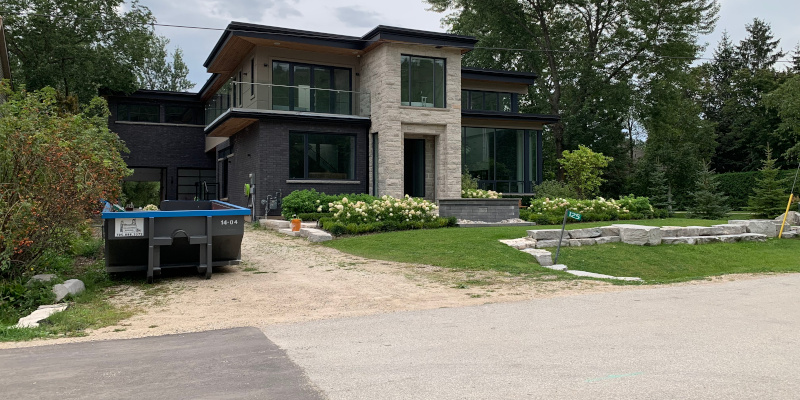 With our roll-off bins, we do our best to work with your schedule. We are able to drive the bin to your site, drop it off, and then allow you to dispose of your refuse in a timeframe that works for you. When you are done with your roll-off bins, we come and collect them and dispose of the waste. It is as simple as that! With the ability to call our experts when you need large roll-off bins, you will find that disposing of large quantities of waste at your convenience will take loads of worry off your plate.
If you are looking for roll-off bins for your next project, be in construction or decluttering, we can assist you. Our roll-off bins come in different sizes and are specially manufactured to have a lower lip, making it easier and more comfortable to throw things away. This lessens the risk of injury when moving heavy objects. For more information about our roll-off bins, please give us a call today.
FAQs About Renting a Roll Off Bin
If you enjoy doing DIY projects and home improvement jobs, you've likely experienced that feeling of looking around at a huge mess you've created and wondering how you're going to clean everything up. For times like these, our team at Collingwood Disposal is here to help with our wide range of roll-off bins and waste disposal containers. If you've never used our services before, here are a few things you should know beforehand.
How soon can I get a roll-off bin to my site?
Oftentimes, our team is able to provide same-day delivery services! Simply give us a call to let us know what kind of roll off bin you need, tell us some details about the project, and we'll get a bin to you asap.
How much will it cost to rent a roll-off bin?
Exact prices will vary depending on how long the rental period will last and what size bin you'll need. However, you can get a free bin quote by filling out our simple online form or giving us a call.
Why should I rent a roll-off bin from you?
Our committed team has been in this industry for over 30 years, so you're guaranteed to have a streamlined rental experience. We'll take care of the bin delivery, properly dispose of the bin's waste, and remove the bin from your site as soon as you don't need it anymore. Providing excellent customer service is one of our top priorities, and we'd be happy to assist you with your next project.
---
At Collingwood Disposal, we offer roll-off bins for customers in Collingwood, Wasaga Beach, Meaford, Maxwell, Badieros, the Town of Blue Mountains, including Craigleith, Clarksburg, Lora Bay, Ravenna, Red Wing, and Thornbury, and Clearview Township, including Aveneing, Creemore, Duntroon, Glen Huron, New Lowell, Nottawa, Stayner, Shanty Bay, Elmvale, Midland, and Sunnidale Corners, Ontario.