We partner with contractors, renovation specialists, and property owners to provide asbestos hauling.
You may have heard people reference asbestos when talking about demolishing or renovating structures, or you may know about it as a material that can cause health problems in people who had prolonged exposure to it. Asbestos is a naturally occurring fibrous silicate mineral that includes microscopic fibers. It was used frequently in construction products and materials in the past, so it's found in the walls and ceilings of buildings located across the world. Asbestos isn't used in many materials anymore since it was linked to various health problems. People who worked in asbestos mines or installed the material for their jobs have an increased risk of mesothelioma and other types of cancers.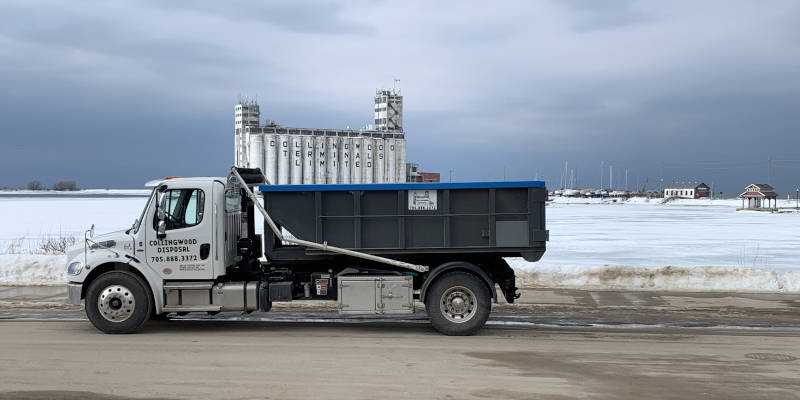 In order to protect those living or working in a structure, it's important to remove any asbestos that may be present. However, the removal and disposal of asbestos are dangerous tasks and should be handled by a skilled professional. The team at Collingwood Disposal can take care of the asbestos hauling for you, as well as the proper disposal of this potentially hazardous material. Our asbestos hauling and other waste solutions are available to those located throughout Collingwood, Ontario.
We partner with contractors, renovation specialists, and property owners to provide asbestos hauling. It's an important service that can help our clients protect themselves from the hazards of this material. Our technicians have the tools and training needed to safely haul and dispose of any materials that may contain asbestos. If you have questions about asbestos hauling or would like to request a quote for service at your structure, don't hesitate to reach out to us.
FAQs About Asbestos Hauling
When you need asbestos hauling during a demolition or renovation project, you need to find professionals who are qualified to handle the job. We're the professionals you can trust with this task, and we understand that you may have questions for us before we come out to your property. Check out our frequently asked questions below and reach out to our team if you have additional questions about asbestos hauling.
How quickly can you get here for asbestos hauling?
Discovering you have asbestos in your space is not just a serious issue; it's an urgent one. Being in a space with asbestos is dangerous, so it's important to remove yourself from the situation and get professional help with asbestos removal and hauling as soon as possible. We understand you are anxious to get the asbestos out of your home, so we'll make every effort to assist you and haul it away as soon as possible.
What kinds of precautions do you take when you haul asbestos?
We are well aware of the risks posed by asbestos, so we make sure to protect ourselves and follow best practices when hauling it to prevent exposure to others. For example, we always wear the recommended personal protective equipment. We may wet the waste to prevent the fibres from blowing off or use carefully sealed containers.
How much does asbestos hauling cost?
We would love to talk with you about pricing when you contact us. Every situation is unique with a variety of variables, so we will provide a custom quote for you. If you have questions about the quote we give you, we can explain our reasoning.
---
At Collingwood Disposal, we offer asbestos hauling services for customers in Collingwood, Wasaga Beach, Meaford, Maxwell, Badieros, the Town of Blue Mountains, including Craigleith, Clarksburg, Lora Bay, Ravenna, Red Wing, and Thornbury, and Clearview Township, including Aveneing, Creemore, Duntroon, Glen Huron, New Lowell, Nottawa, Stayner, and Sunnidale Corners, Ontario.