Our mini bin rentals are great for smaller projects.
When you need to get rid of stuff, it's hard to take it to the local dumpster in just your car. Not only that, but doing this is messy and inconvenient. Instead of letting waste collect during your next renovation or decluttering project, rent a mini bin from us at Collingwood Disposal to make your life easier.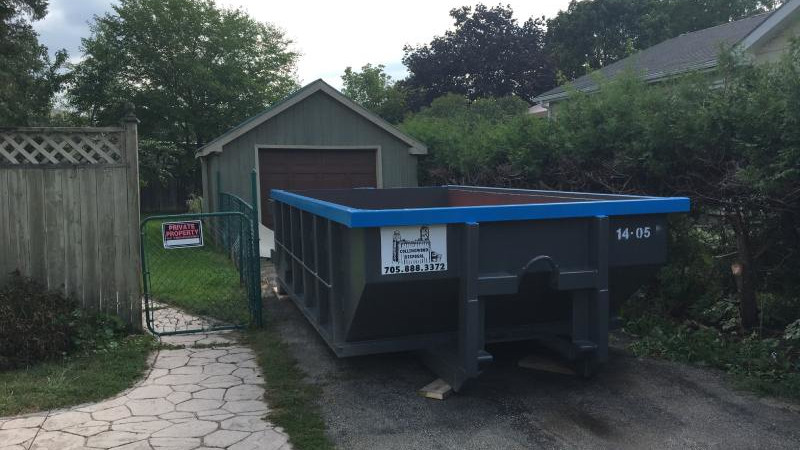 Our mini bin rentals are great for larger projects that produce a lot of waste. For example, if you're renovating your kitchen and need somewhere for all that used material and debris to go, a mini bin rental is great for this purpose. Or, if you're redoing your backyard landscaping and there's going to be a lot of dirt and debris produced, a mini bin rental is an excellent way to dispose of all this excess waste.
Our mini bin rentals feature an ergonomic design, so it's easy to wheel stuff up to them and dispose of it. The low bin walls also make it easier to get stuff into the bin and then go grab your next load. Renting our mini bins is also an easy process – just let us know what size bin you need, how long you need it for, and any special requests you have. We'll then deliver your bin, and you can get to work on your project.
We make waste disposal easy, and we proudly serve the Creemore, Ontario area. To rent a mini bin or learn more about our different bin sizes, get in touch with us today.
---
At Collingwood Disposal, we offer mini bin rentals for customers in Collingwood, Wasaga Beach, Meaford, Maxwell, Badieros, the Town of Blue Mountains, including Craigleith, Clarksburg, Lora Bay, Ravenna, Red Wing, and Thornbury, and Clearview Township, including Aveneing, Creemore, Duntroon, Glen Huron, New Lowell, Nottawa, Stayner, and Sunnidale Corners, Ontario.