Having a partner you can rely on to handle waste removal can alleviate stress and keep things moving on the job.
You probably don't spend a lot of time thinking about the waste removal process from your property. After all, as long as the removal company shows up on time and takes care of the disposal process, you don't have to worry about it too much. However, if you've ever dealt with an unreliable company, you can attest to the frustration that this causes. Having a waste removal company you can rely on to handle the waste produced on your property is essential, and Collingwood Disposal is that company for those located in and around Collingwood, Ontario.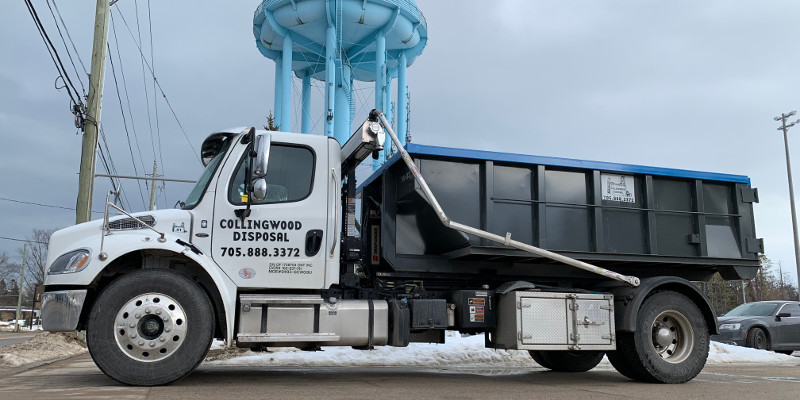 We have been in the waste removal business for decades, so we're able to handle a wide range of needs that may arise. According to estimates, the average citizen produces 2.7 kg. of garbage per day. That garbage needs to be properly stored and disposed of to avoid creating an unpleasant, smelly, and messy situation on your property. If you're operating a construction site or dealing with a renovation at your property, the amount of waste produced will only increase. Having a partner you can rely on to handle waste removal can alleviate stress and keep things moving on the job.
Our family-owned waste removal business has been serving clients in the area for three generations. We offer a range of containers in various styles and sizes to accommodate your unique needs. You can even get an ergonomically designed bin with a lower lip that is easier to load. When it's full, contact us and we'll take the bin away and dispose of the waste inside.
FAQs About Waste Removal
Keeping the waste contained during your construction, demolition, or landscaping project is important because it keeps your properly clean and organized as well as moving things along faster. We would be more than happy to handle your waste removal needs, and we're here to answer any questions you may have about our services. Check out our frequently asked questions and their answers below. If you have other questions, reach out to us.
What size bin should I use?
We offer several sizes, including bins that are 14, 20, or 30 cubic yards. If you are not sure which size bin is right for your particular project, we can help you select one that's appropriate after you tell us a bit more about your needs and the scope of your project. We'll do our best to help you choose a bin that's not too large or too small.
Do you offer waste removal for hazardous materials?
We do offer hauling services for asbestos, which is considered a hazardous material. If you are working on a demolition or renovation project and you've disturbed some materials containing asbestos, we'll make sure to contain it and haul it away in the proper manner. You can rest assured that we will take all the right precautions.
Why should I turn to you for waste removal?
We make sure to maintain our bins, which are durable and have the best design in the market with a lower side for ergonomic purposes. We also do all we can to provide waste removal when our clients need it, so they won't have to wait around. We also offer free quotes, so you'll know what to expect before you pay.
---
At Collingwood Disposal, we offer waste removal services for customers in Collingwood, Wasaga Beach, Meaford, Maxwell, Badieros, the Town of Blue Mountains, including Craigleith, Clarksburg, Lora Bay, Ravenna, Red Wing, and Thornbury, and Clearview Township, including Aveneing, Creemore, Duntroon, Glen Huron, New Lowell, Nottawa, Stayner, Shanty Bay, Elmvale, Midland, and Sunnidale Corners, Ontario.