Our services include the transport, delivery, and disposal of open-top roll-off dumpsters.
Working on a renovation project or construction project produces a lot of waste. You may have debris that comes from the demolition phase, as well as any materials that need to be disposed of throughout the process. Even a landscaping project can produce quite a bit of organic material that needs a place to go or you'll end up with a mess on your site. If you're in or near Collingwood, Ontario, contact Collingwood Disposal to provide the containers you need to store the waste on your site or renovation project. We offer a range of services and containers, including open-top roll-off dumpsters, which are some of the best options for temporary container needs.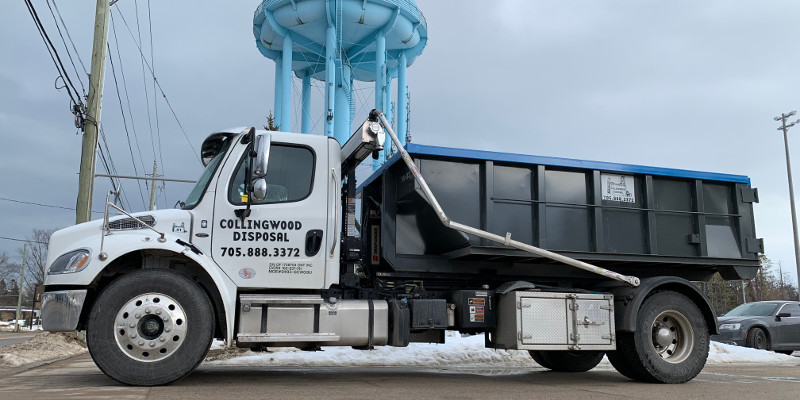 Open-top roll-off dumpsters are easy to access, allowing those on the site to toss materials into the containers without having to worry about opening and closing a lid. When you're finished with the job or you want to move the container to a different location on the site, the roll-off functionality makes for easy movement and transportation. After you're finished with the part of the project that necessitates a roll-off dumpster, you can contact us, and we'll send a technician to pick it up.
Our services include the transport, delivery, and disposal of open-top roll-off dumpsters. We can often accommodate same-day requests for local clients, which means you can get started on your project right away instead of having to wait for your container delivery. When you need flexible solutions to common waste storage problems, trust our team of experts.
---
At Collingwood Disposal, we offer open-top roll-off dumpsters for customers in Collingwood, Wasaga Beach, Meaford, Maxwell, Badieros, the Town of Blue Mountains, including Craigleith, Clarksburg, Lora Bay, Ravenna, Red Wing, and Thornbury, and Clearview Township, including Aveneing, Creemore, Duntroon, Glen Huron, New Lowell, Nottawa, Stayner, and Sunnidale Corners, Ontario.