We'll help when a typical waste receptacle won't fit your needs.
When you are dealing with regular trash that accumulates from ongoing business operations, you typically want a dumpster with a lid so that the trash stays contained and does not become a home to wild creatures, among other reasons. However, if you have a large project where you will be adding items to the trash many times over a few days, needing to lift that lid each time is going to become annoying. The solution is to call us at Collingwood Disposal to learn about reserving open-top roll-off dumpsters.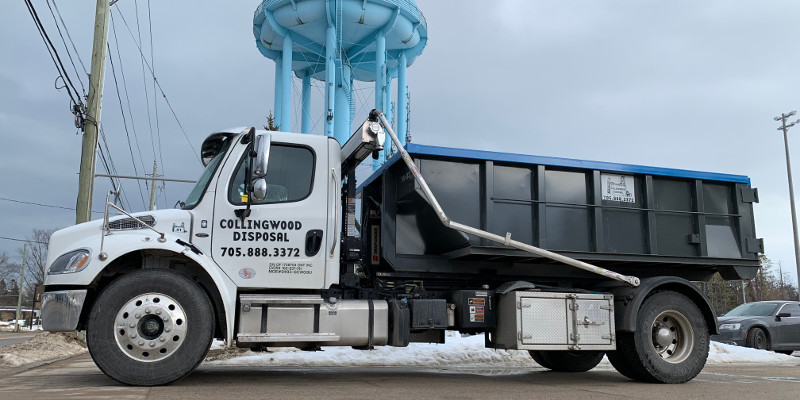 We deliver our open-top roll-off dumpsters throughout the Stayner, Ontario area, and when you are finished with your project, we pick it back up and dispose of the waste for you. We offer a variety of sizes to accommodate small, medium, and larger projects. Our pricing is straightforward and includes all aspects of your rental, including delivery, pick-up, and disposal of the waste inside. We will discuss with you the size you want, the period of time you will have the dumpster, and the type of materials you plan to dispose of prior to giving you a quote. Most materials fall under our normal pricing, but if you have hazardous materials or items that are difficult dispose of, there may be an additional charge.
You can rest assured that no harm will come to your worksite, as our delivery team will place wood beneath the container so that the surface below is protected. Our open-top roll-off dumpsters are the ideal solution for construction, home renovations, clearing a rental where junk was left behind, handling landscaping projects, and much more. If you would like more information, feel free to contact us.
---
At Collingwood Disposal, we offer open-top roll-off dumpsters for customers in Collingwood, Wasaga Beach, Meaford, Maxwell, Badieros, the Town of Blue Mountains, including Craigleith, Clarksburg, Lora Bay, Ravenna, Red Wing, and Thornbury, and Clearview Township, including Aveneing, Creemore, Duntroon, Glen Huron, New Lowell, Nottawa, Stayner, and Sunnidale Corners, Ontario.