Our roll-off dumpsters make waste disposal easier.
Open-top roll-off dumpsters are large, rectangular waste bins that feature an open top and wheels. These wheels allow the dumpster to be rolled into the right spot for convenient waste disposal. We rent open-top roll-off dumpsters and provide multiple sizes for any residential or commercial project. We'll conveniently deliver your dumpster and then pick it up when you're done, taking care of dumping all the waste for you.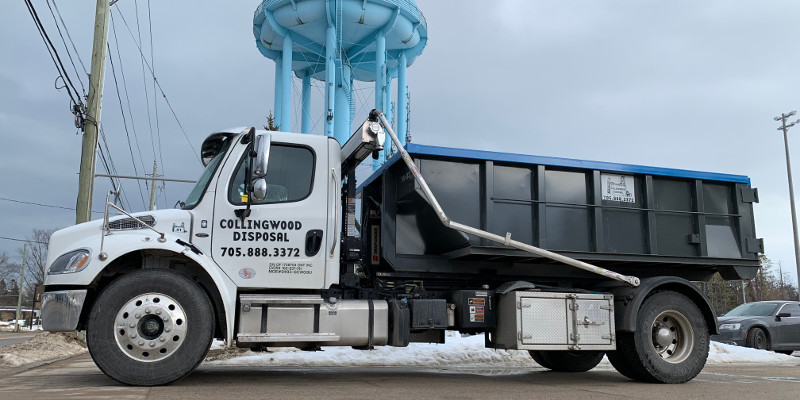 One of the best features of our open-top roll-off dumpsters is an ergonomic design that makes waste disposal easy. Their low sides allow you to quickly and easy dump waste into them without struggling to reach over the top. This way, you can dispose of your load and then go back to get another one without wasting any time.
Our open-top roll-off dumpsters are great for any large-scale waste disposal project in the Creemore, Ontario area. Whether you need a dumpster for a construction project or a larger dumpster for a major home renovation project, we make disposing of excess debris and materials easier than ever. Our rental and delivery processes are also streamlined and efficient, so you can focus on getting your project done.
If you need an open-top roll-off dumpster for an upcoming project, let us know, and we can give you a quote. Contact us today at Collingwood Disposal to learn more about our open-top roll-off dumpsters and make a reservation.
---
At Collingwood Disposal, we offer open-top roll-off dumpsters for customers in Collingwood, Wasaga Beach, Meaford, Maxwell, Badieros, the Town of Blue Mountains, including Craigleith, Clarksburg, Lora Bay, Ravenna, Red Wing, and Thornbury, and Clearview Township, including Aveneing, Creemore, Duntroon, Glen Huron, New Lowell, Nottawa, Stayner, and Sunnidale Corners, Ontario.