When we supply open-top roll-off dumpsters, we make the process as smooth as possible.
When you're managing a construction site, the tasks on your to-do list can feel endless. Finding the right solutions for the various tasks can make your job easier, as well as accommodate the needs of those working on the site. If you find yourself in need of waste storage and disposal solutions, our team at Collingwood Disposal can provide for these needs. We work with contractors, construction companies, and individual property owners located in The Blue Mountains, Ontario to provide a range of waste solutions. Many of our clients come to us in search of dumpsters, and our open-top roll-off dumpsters are among the most popular products we provide.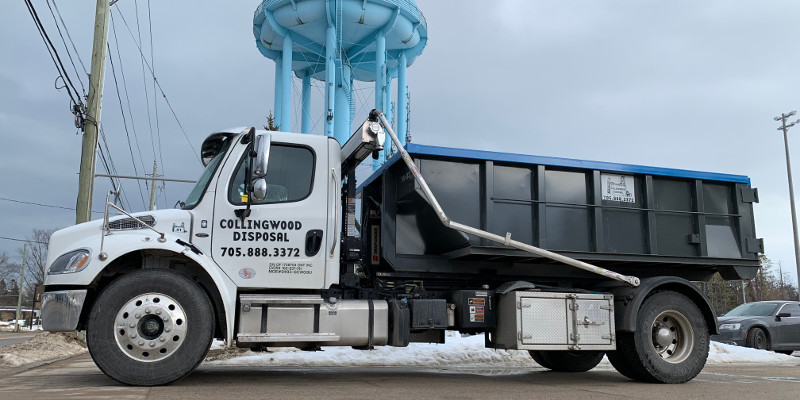 Open-top roll-off dumpsters are very useful on a construction site for several reasons. The first is the ability to roll them to a designated location. The wheels on this type of container make it easier to move them to different places on the job site. Those working on the site can keep the dumpster close by based on where they need it. The open-top design of this style of container allows for debris to be tossed in from above or on the ground. Workers don't have to worry about opening the lid every time they need to toss something in, which can save valuable time and effort.
When we supply open-top roll-off dumpsters, we make the process as smooth as possible. Our technicians will bring the containers in the size of your choosing and place them on your property in the designated location. When you no longer need the open-top roll-off dumpsters, we'll come back and take them away, emptying them for you. If the need arises for open-top roll-off dumpsters at your job site, contact us to get started.
---
At Collingwood Disposal, we offer open-top roll-off dumpsters for customers in Collingwood, Wasaga Beach, Meaford, Maxwell, Badieros, the Town of Blue Mountains, including Craigleith, Clarksburg, Lora Bay, Ravenna, Red Wing, and Thornbury, and Clearview Township, including Aveneing, Creemore, Duntroon, Glen Huron, New Lowell, Nottawa, Stayner, and Sunnidale Corners, Ontario.