We take the hassle out of waste disposal for your projects.
When you put together a bid for a project in the Stayner, Ontario area, you have to account for every expense you will incur, so you can make the profits that you need to grow your business. Sometimes, one of the hardest things to calculate is waste disposal, especially if the project is unusual or you are just starting out. You will find that here at Collingwood Disposal, we have the expertise you need to properly account for your waste disposal costs.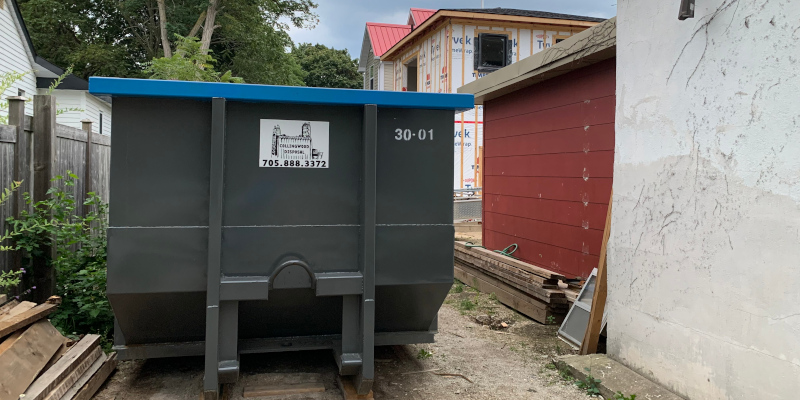 We understand that when you bid a project, you have to be confident your costs won't change afterward and leave you to choose whether to make less on the project than you should have earned or charge your customer more, which usually doesn't go over well. We can assure you that when we give you a quote for waste disposal using our bins, you won't experience any additional costs later. We don't tack on fuel, administrative, or environmental costs like we know some other companies do. Our goal is to reduce hassle, so your project stays on budget and on time.
We deliver and pick up the waste disposal bins, so you can focus on your project instead. We'll help you determine the right size for the project. Our rental rates are based on up to 6 nights at your location. If your needs are different than that, don't hesitate to let us know. Our friendly, customer-oriented professionals are here to help in any way we can. Call today with any questions you may have or to reserve bins for your waste disposal needs.
---
At Collingwood Disposal, we offer waste disposal services for customers in Collingwood, Wasaga Beach, Meaford, Maxwell, Badieros, the Town of Blue Mountains, including Craigleith, Clarksburg, Lora Bay, Ravenna, Red Wing, and Thornbury, and Clearview Township, including Aveneing, Creemore, Duntroon, Glen Huron, New Lowell, Nottawa, Stayner, and Sunnidale Corners, Ontario.
Similar Services We Offer: